by Sam Levin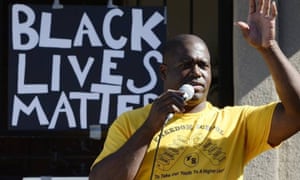 When Justice Medina left a Black Lives Matter protest in California last Wednesday, police followed him. At around 8pm, roughly a mile away from the protest in downtown Fresno, officers stopped the 20-year-old, who was in a car with his mother.
"They had trailed behind me, and they pulled me out of the car and handcuffed me," recalled Medina, who is black and Mexican and grew up in the Central Valley city, 200 miles south-east of San Francisco.
"I was shaking," recalled his mother, Mysti Medina, 38, who also participated in the rally against police brutality. "I've been pulled over and harassed by cops before, but this was very scary."
The police – who confirmed the Medinas' version of events – eventually took the handcuffs off Justice and gave him a citation for two misdemeanor charges stemming from his protests: "Obstructing the sidewalk" and holding a "special event" without a permit. If convicted, he could face a year in jail and a $1,000 fine.
Activists were stunned; two weeks earlier, the same police department had made no arrests and issued no citations when a group of anti-police protesters took over the streets without a permit, blocking traffic in a similar manner.
The main difference? The first rally was a "White Lives Matter" protest.
Read More: Do police treat Black Lives Matter and 'White Lives Matter' differently? | US news | The Guardian