By Jesse Hardman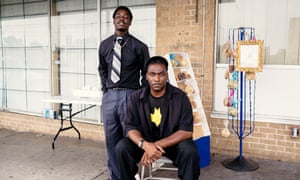 While most people are finishing up their work week, 47-year-old Terrell Griffin and his 19-year-old nephew Xavier Coleman are still working hard on the north side of Florida Boulevard in Baton Rouge, Louisiana.
They are selling CDs, DVDs, popcorn balls, candy apples, peanuts, and some southern specialties, such as cracklin' (fried pork fat), pecan candy and teacakes. They set up their wares on a collapsible table and metal hanger, out in front of a strip mall church, next to a Family Dollar store.
As a woman looks over their movie selection, Xavier, who is wearing a black dress shirt and gray slacks, dress shoes, and a gold chain over a tie, goes into salesman mode. "We create relationships with our customers," he says. "It's all about being positive and connecting with people – it's what we do."
There is one additional item on display: a framed, up-to-date license for the business, Just a Taste of the Fair, registered to his name. He wants everybody to know: "We're legit."
Griffin, a married father of 11 who also leads a successful gospel group, lives around the corner. Sometimes he works past midnight, bringing his wares to nearby gas stations and restaurants. Griffin says he's been selling for 23 years. "I raised my kids off of selling this stuff," he says.
Griffin and Coleman deal mostly in cash, which raises a question about safety. Griffin says he's protected in two ways: "I'm covered by the blood of Jesus," he says, and "I have a gun that's legal, I have a permit."
Read More: 'On this side of town they harass you': the Baton Rouge where Alton Sterling died | US news | The Guardian